Our Services
ELECTRICAL CONSTRUCTION
Purchasing managers and plant superintendents seeking high quality, innovative electrical construction services count on E.C. Ernst. With a reputation built upon a century of experience, our Electrical Construction Division can design, install and maintain your electrical distribution system. We offer support in the following areas:
With advanced design/build capability, E. C. Ernst is equipped to handle an expansive scope of industrial projects. From high-tech clean rooms to automated process plants, to power generating stations, E.C. Ernst meets every challenge. In addition to new projects built from the ground up, E.C. Ernst expands existing installations while facilities remain in operation. E.C. Ernst's accelerated scheduling minimizes downtime during necessary outages and brings projects to completion on time and within budget.
Substations, Transformers and Switchgear
Generators and Emergency Power
Plant & Equipment Relocation
Design-Build
Power Distribution
Grounding Systems
Instrumentation
Motor Controls
Lightning Protection
Building Lighting
Life Safe Systems
Heat Trace
Trenching, Boring and Drilling
Recognizing that each office building has its own needs, E.C. Ernst has developed a portfolio of expertise to meet every new challenge. Specialized design/build capabilities enables E.C. Ernst to accommodate projects ranging from "Class A" urban high-rises to complex data center installations.
Design-Build
Power Distribution
Building Lighting
Preventative Maintenance
Energy Management and Lighting Retrofits
Security and Life Safety Systems
Intercom Systems
Mechanical Wiring
Pole Setting
Parking Lot Lighting
Temporary Power
Modern schools, universities and museums present diverse challenges for electrical contractors. E. C. Ernst has more than answered the call with complete package installations that include an integrated array of applications, features and systems. Advanced technology applications involve:
CCTV
Security Systems
Lightning Protection
Voice/Data
Fire Alarms
Audio/Video Centers
Custom Theatrical Lighting
Sports Stadium Lighting
Campus-Wide Power Distribution
Electrical Support for HVAC and Mechanical Installations
Generator and Co-Generation Installs
For over 75 years, E.C. Ernst has been the electrical contractor of choice in the Washington DC area for internationally recognized religious institutions. Our experience working with and around marble, mosaic and fresco artisans in the restoration process is unparallel in the industry. We understand a church is a 24x7 operation and we are able to minimize impact of renovations to the patrons, services and events.
Dome Renovations
Lighting Support Structures
Fiber Optic Lighting
Sound Systems
Exterior Architectural Accent Lighting
Interior Task Lighting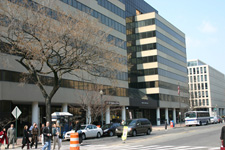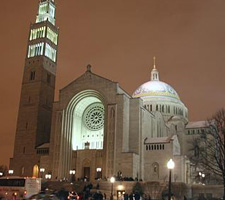 Have a Project?
Contact us today for more information regarding our quality services.