About Us
This year marks the 95th anniversary of the founding of E. C. Ernst! Washington D.C. electrician, Edward C. Ernst, developed a strong reputation for providing electrical construction for business, institutions, and other large structures in the early 1900's. As a result of his early success in electrical contracting, he opened E. C. Ernst in 1915. The company's first major project was the Wardman Park Hotel renovation; he and his staff were responsible for wiring the electric ranges in every apartment. Since then, the company has completed projects at countless facilities for some of the most prominent commercial, educational, government, healthcare, and industrial facilities in the Washington DC Metropolitan area and beyond, including:
The White House
The J. Edgar Hoover Building
National Place Mall
Disneyworld - Epcot Center
The Capital Center
The Shrine of the Immaculate Conception
Various Marriott Hotels
Washington National Cathedral
Marriott Corporate Headquarters
Hyatt Crystal City
Various Washington area Hospitals
National Japanese-American Memorial
The Kennedy Center
Chalk Point, Morgantown and Dickerson Generating Stations
From small routine electrical jobs to complex highly technical projects, E. C. Ernst has the in-house staff and resources to complete work quickly, efficiently and within budget. Just as the integrity of your systems is critical to the productive, dependable operation of your business — so is the integrity of the contractor performing the work on those systems. Our expertise includes the following areas:
Basic Wiring and Lighting
Installation of Data Centers
Telecommunications Systems
Preventive Maintenance Programs
Energy Management Systems
Control Systems
Fire Alarm Systems
Fiber Optics
P.O.S. Wiring
Re-models
Data Communications
Engineering and Integration
The depth of our experience offers the greatest value for our customers. We offer only the highest quality services, cost control, project management and overall customer satisfaction. Quite simply, E. C. Ernst provides a complete line of services to meet the electrical needs of businesses, large and small.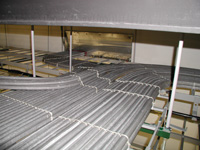 Have a Project?
Contact us today for more information regarding our quality services.